When it comes to making delicious Italian-style dishes, there are many appetizing options for your food cravings. One of these tasty recipes is the Calzone or Stromboli, both derived from pizza crust dough and typically stuffed with cheese and various meats. But what's the difference between Calzone and Stromboli? Join us as we explore some of the core differences that make these two Italian dishes unique.
What Is A Stromboli?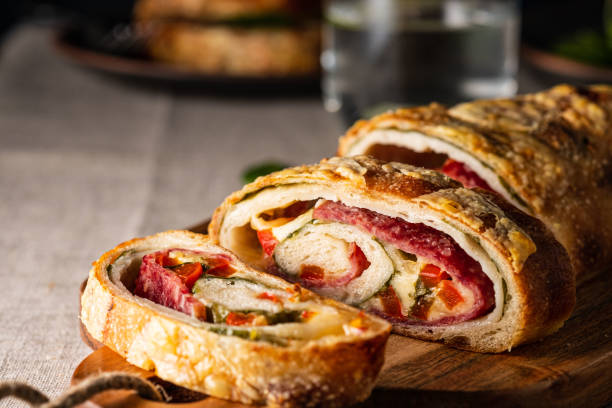 Origin And History
The origin and history of Stromboli can be traced back to 1950s Philadelphia, where Nazzareno Romano, a restaurant owner, is credited with introducing a rolled up pizza dough filled with ham, cheese, and peppers.
Key Features Of Stromboli
The dough is rolled into a rectangular shape.
The fillings are placed on top of the dough, leaving space around the edges.
Once filled, the dough is rolled up and sealed shut.
It is then baked until crispy and golden brown.
What Is A Calzone?
Origin And History
The origin and history of the calzone can be traced back as far as the 18th century, although no specific date is determined. The unique moon-shaped design is believed to have originated from folding a pizza over, indicating that calzones were not meant to be eaten with utensils. In Italy, street vendors are the typical sellers of calzones.
Key Features Of Calzone
Circular shape made with pizza or yeasted bread dough.
Filled with a combination of ricotta, mozzarella, Parmesan, cured meats, vegetables, and herbs.
Sealed shut using a crimping technique.
Difference Between Calzone And Stromboli
The key difference between a calzone and a stromboli lies in their sealing technique, shape and size, origin, fillings, preparation, and sauce.
Sealing Technique: A calzone is folded in half and the edges are pinched together, creating a sealed pocket. On the other hand, a stromboli is rolled like a burrito.
Shape and Size: A calzone is typically half-moon shaped, while a stromboli is more like a log or elongated rectangle. Calzones are usually smaller and meant to be a single serving, whereas strombolis are larger and designed to feed more than one person.
Origin: Calzones have a history dating back to the 18th century in Naples, Italy. In contrast, strombolis originated in Philadelphia in the 1950s.
Fillings: Both calzones and strombolis use similar fillings, but the main difference lies in the cheese. Strombolis primarily incorporate low-moisture cheeses, especially mozzarella. Calzones also include similar cheeses, but ricotta cheese is almost always present and is rarely found in strombolis.
Preparation: Both calzones and strombolis are baked in the oven, but for a crispier texture, calzones can be fried.
Sauce: Neither calzones nor strombolis usually have sauce incorporated, but they can be served with sauce on the side for added flavor.
What Are The Most Common Fillings For Calzones And Strombolis?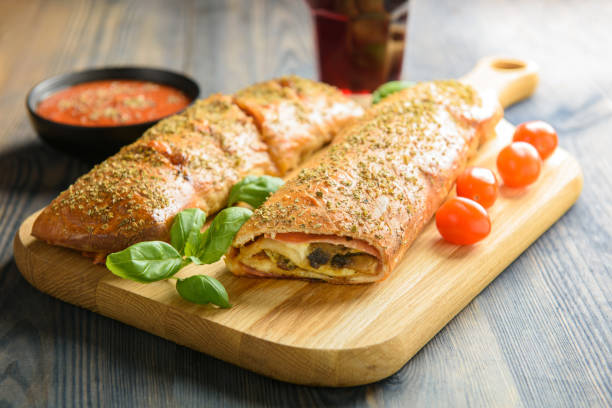 The most common fillings for calzones and strombolis differ in their ingredients. Strombolis typically incorporate a variety of Italian cold cuts like salami, pepperoni, and capicola, layered with cheese. On the other hand, traditional calzones contain ricotta cheese, mozzarella, and additional ingredients such as ham or spinach. Notably, strombolis have their ingredients spread throughout, while calzones have a more pocket-like filling.
Common Misconceptions
Stromboli Vs Pizza
Some people may confuse strombolis with pizza rolls or hot pockets due to their similar appearance. However, the main difference lies in the crust; pizza rolls and hot pockets use a flaky pastry crust, whereas strombolis use a traditional pizza dough.
Calzone Vs Panzerotti
Panzerotti is another Italian dish that shares similarities with calzones. They are both made with pizza dough and filled with various ingredients, but the main difference is that panzerotti is typically fried, whereas calzones are baked.
Pizza Turnover Vs Calzone
Some may also mistake pizza turnovers for calzones, but the main difference lies in their sealing technique. Pizza turnovers are folded and crimped like a calzone, but they have an opening on top, whereas calzones are sealed shut all around.
Daniel Mauney is the Chef/Owner of tapp room Restaurants. He has been in the industry for over 20 years, and his restaurants have been featured in magazines and newspapers all over the country. Daniel's food is heavily influenced by his travels, and he enjoys incorporating unique flavors and spices into his dishes.